Pterygium excision with rotational conjunctival flap - a simple and effective method
10.36351/pjo.v38i4.1489
Abstract
Purpose: To find out the effectiveness of rotational conjunctival flap in pterygium excision by analyzing intra/postoperative complications and recurrence rates.
Study Design: Interventional case series
Place and Duration of study: Al-Baseer Eye Hospital, Karachi from October 2019 to May 2022.
Methods: All patients who had primary pterygium excision with rotational conjunctival flap in the hospital were included. Data collection was done using medical records regarding patient's age, sex, laterality and location of pterygium, intra-operative and post-operative complications. Patients were examined for recurrence at or more than 3 months follow-up. For data analysis, IBM SPSS Statistics 23 was used.
Results: A total of 36 patients underwent pterygium excision with rotational conjunctival flap under topical anesthesia by a single surgeon. Mean age at the time of surgery was 52.85±12.66 years. Male : female ratio was 5:4. Ninety four percent were nasally located. Major intraoperative complication (corneal perforation) occurred in one patient. Post-operative significant flap congestion was noted in 2 (5.5%), while partial flap retraction and sub-conjunctival hemorrhage was seen in 1 (2.7%) patient. Twenty six patients completed at least 3 months follow-up. Two (8%) patients had recurrence of mild-moderate degree within 6 months of surgery.  
Conclusion: Pterygium excision with conjunctival rotational flap is simple and effective method in selected patients. Harvesting, positioning and suturing of flap can be carried out single handedly. The method requires less surgical expertise, and has good post-operative results.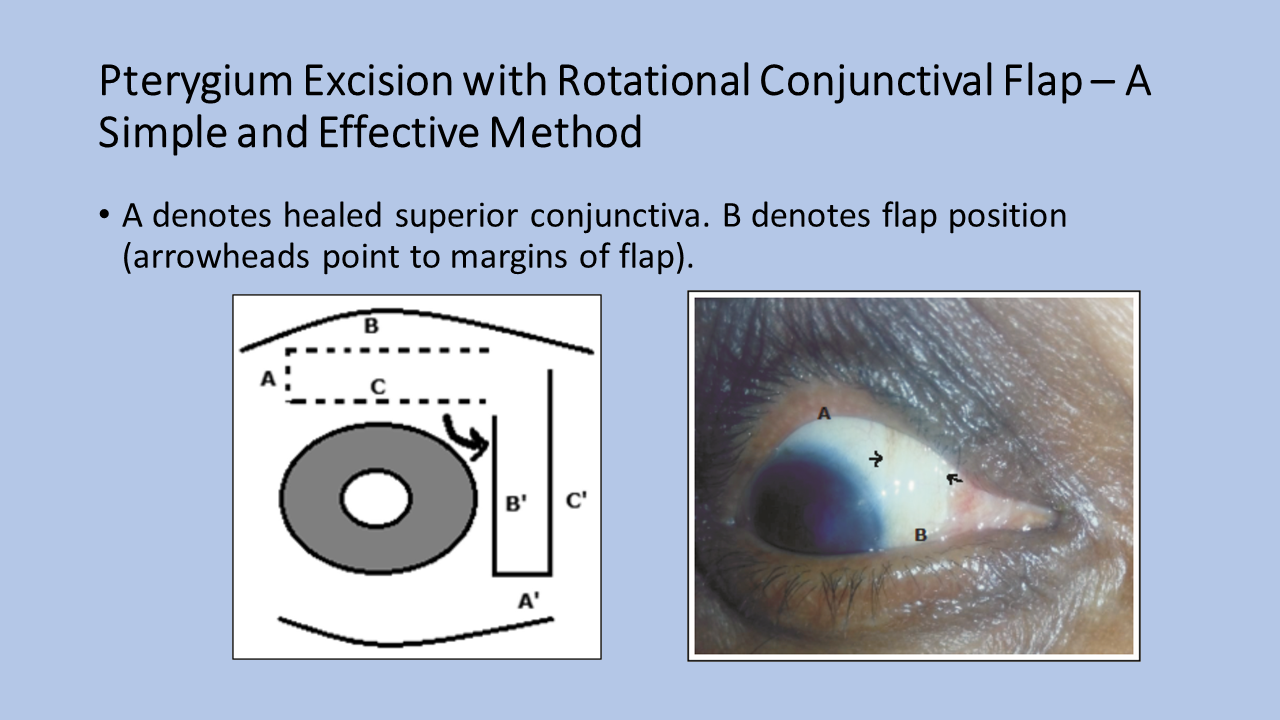 Downloads
How to Cite
1.
Mangi M. Pterygium excision with rotational conjunctival flap - a simple and effective method: 10.36351/pjo.v38i4.1489. pak J Ophthalmol [Internet]. 2022 Sep. 30 [cited 2023 Sep. 29];38(4). Available from: https://www.pjo.org.pk/index.php/pjo/article/view/1489
Section
Original Articles
License
Copyright (c) 2022 dr mahpara mangi
This work is licensed under a Creative Commons Attribution-NonCommercial 4.0 International License.