Frequency of Post-Operative Hypotony with Sutureless Sclerotomy versus Intrascleral Hydration in 23-Gauge Pars-Plana Vitrectomy
Doi: 10.36351/pjo.v38i4.1454
Abstract
Purpose:  To compare the frequency of hypotony after 23-gauge (G) pars plana vitrectomy (PPV) with suture-less sclerotomy versus intrascleral hydration for sclerotomy closure in eyes with air/gas tamponade.
Study Design:  Quasi-experimental study.
Place and Duration of Study:  College of Ophthalmology and Allied Vision Sciences, Mayo Hospital, Lahore from November 2021 to May 2022.
Methods:  A total of 90 eyes were included who underwent PPV with air/gas tamponade. One group underwent PPV with suture-less sclerotomy while the other got intrascleral hydration for sclerotomy closure. Intraocular pressure (IOP) was measured pre and post-operatively at day one and day seven by applanation tonometry in all eyes. IOP of 6 mmHg or less was defined as hypotony. Primary endpoint measure was rate of early post-operative hypotony.
Results: A total of 90eyes of 90 patients, 40 (44.4%) males, and 50 (55.6%) females were included in the study. Five (5.6%) patients reported hypotony, out of which, only one (2.2%) case was seen in the intrascleral hydration group while rest (8.9%) were of the sutureless group. Sclerotomies requiring sutures were 4.44% (6 of 135) in sutureless group while 0.74% (1 of 135) in intrascleral hydration group. Paired sample T-test for the means of pre-operative and post-operative IOP was significantly different in both groups. For suture-less PPV, mean difference was 3.089 ± 7.960 mmHg (P = 0.013), while for the intra scleral hydration group, it was 3.778 ± 7.048 mmHg (p = 0.001).
Conclusion:  Intrascleral hydration is a suitable option for PPV sclerotomy closure without having any side effects.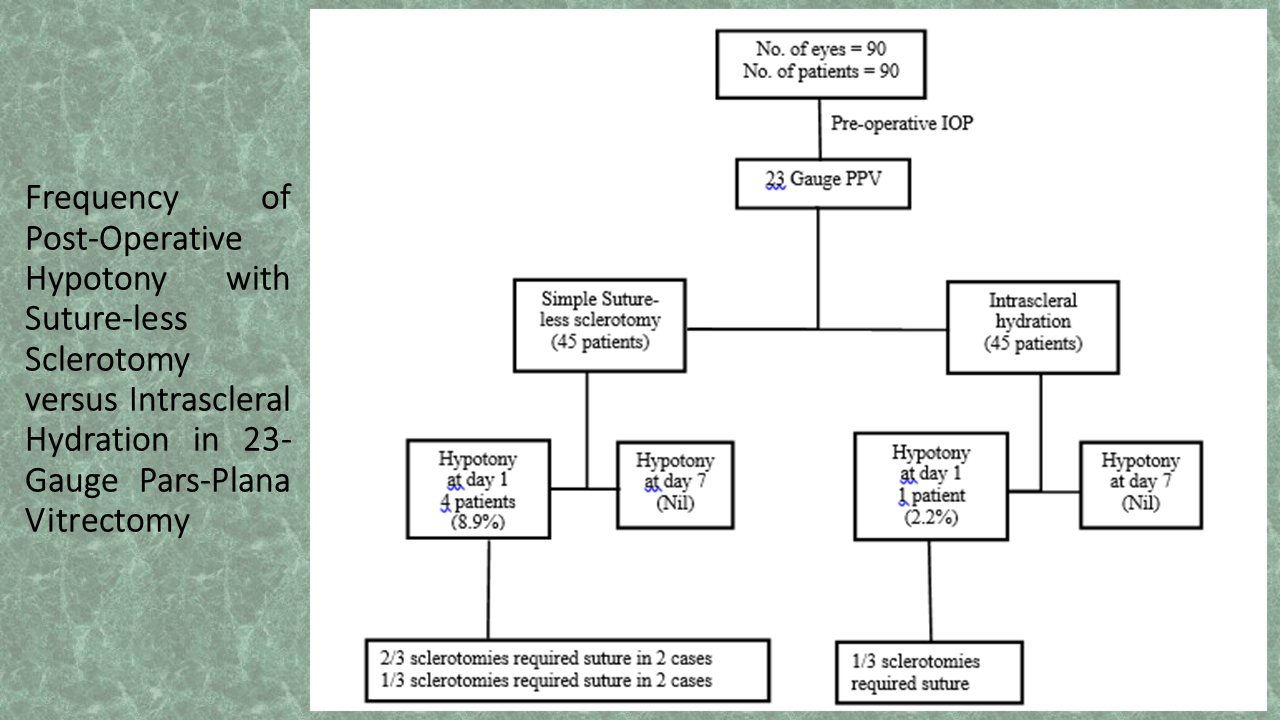 Downloads
How to Cite
1.
Rizwan A, Latif S, Javaid RMM, Majhu T. Frequency of Post-Operative Hypotony with Sutureless Sclerotomy versus Intrascleral Hydration in 23-Gauge Pars-Plana Vitrectomy: Doi: 10.36351/pjo.v38i4.1454. pak J Ophthalmol [Internet]. 2022 Sep. 30 [cited 2023 Sep. 30];38(4). Available from: https://www.pjo.org.pk/index.php/pjo/article/view/1454
Section
Original Articles
License
Copyright (c) 2022 Amna Rizwan, Sidrah Latif, Asad Aslam Khan, Rana Muhammad Mohsin Javaid, Tehseen Majhu
This work is licensed under a Creative Commons Attribution-NonCommercial 4.0 International License.