Nodular Posterior Scleritis Masquerading as Amelanotic Choroidal Melanoma
Doi: 10.36351/pjo.v38i4.1392
Abstract
We report a patient of choroidal mass, masquerading as amelanotic choroidal melanoma. A 48 years old male presented in outpatient department (OPD) with painless decrease in vision of left eye. Fundus examination revealed a two disc diameter, non-pigmented, sub-retinal lesion with approximately 3mm basal diameter, superior to the disc with no choroidal folds, retinal detachment or pigmentation over the lesion. B scan revealed a small nodular thickening superior to the optic nerve head with moderate to low internal reflectively and no choroidal excavation. Swept-Source optical coherence tomography (SS OCT) showed massive elevation of retina due to underlying scleral thickening. He was diagnosed as nodular posterior scleritis (NPS). The lesion regressed completely after treatment with topical and systemic Non-steroidal anti-inflammatory drugs (NSAIDs). Despite its low prevalence, NPS should be kept in differential diagnosis of an amelanotic choroidal mass.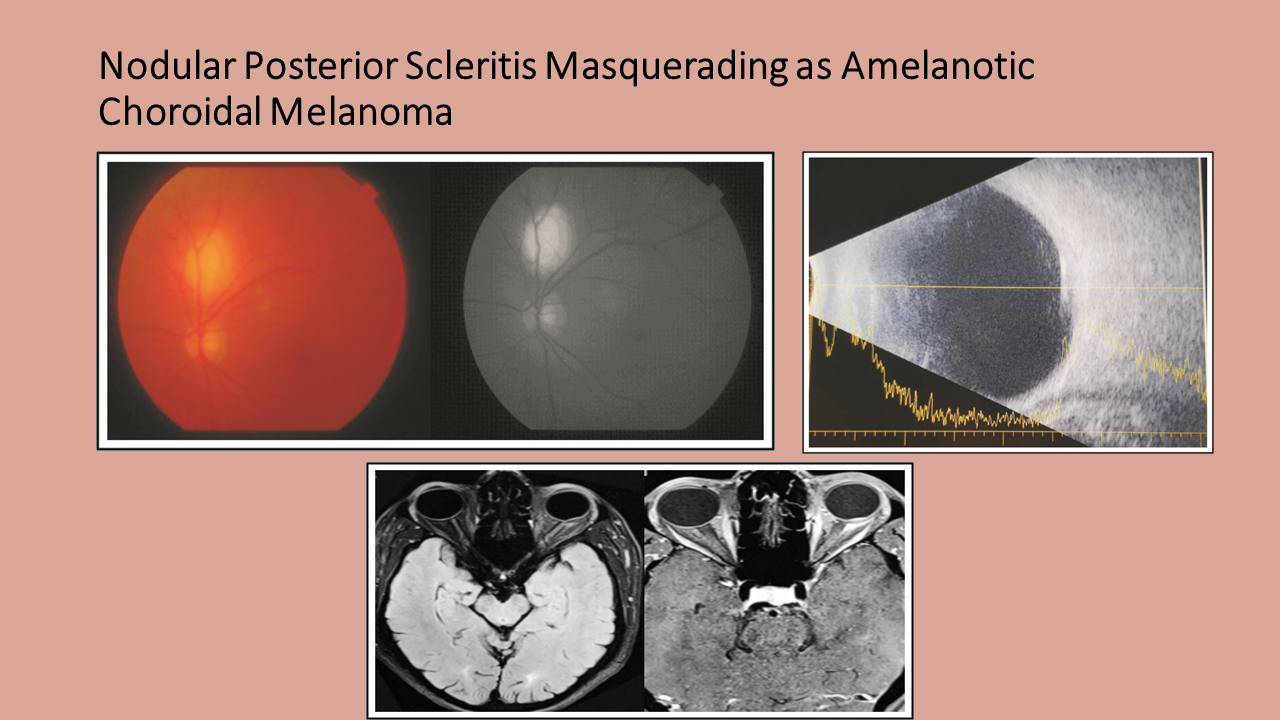 Downloads
How to Cite
1.
Rafique A, Shaheer M, Sarwar MS. Nodular Posterior Scleritis Masquerading as Amelanotic Choroidal Melanoma: Doi: 10.36351/pjo.v38i4.1392. pak J Ophthalmol [Internet]. 2022 Sep. 30 [cited 2023 Sep. 30];38(4). Available from: https://www.pjo.org.pk/index.php/pjo/article/view/1392
License
Copyright (c) 2022 Asima Rafique, Muhammad Shaheer, Muhammad Suhail Sarwar
This work is licensed under a Creative Commons Attribution-NonCommercial 4.0 International License.