Frequency of Dry Eyes after Cataract Surgery and Effect of Gender, Duration of Cataract and Age on Dry Eye Symptoms after Phacoemulsification
Doi: 10.36351/pjo.v38i4.1378
Abstract
Purpose:  To determine the frequency of dry eyes in patients after cataract surgery and to find out the effect of gender, duration of cataract and age on dry eye symptoms after phacoemulsification.

Study Design:  Descriptive Observational study.

Place and Duration of Study:  Layton Rehmatulla Benevolent Trust Free Eye and Cancer Hospital, Lahore from October 2015 to April 2016.

Methods:  One hundred and twenty patients between 40-80 years of age and suffering from cataract were included. Past medical history and current medical information was recorded. To control bias, only one experienced surgeon carried out the procedures. Follow-up was done at 1st post-operative day, one week, one month and 3 months. Tear film break up time was noted at each visit. Quantitative variables like age and tear film break-up time (TBUT) were presented as mean ± SD. The Qualitative variables were presented as frequency and percentages. Data was stratified according to age, gender and duration of cataract. Post-stratification Chi-square test was applied and p-value ≤0.05 was considered significant.

Results:  Out of 120 patients, there were 47 (39%) males and 73 (61%) females. A total of 35 (29.2%) patients had dry eyes. Mean age was 59.11 ± 12.358 years while mean TBUT was 11.27 ± 2.582 seconds. There was no relation of dry eye with gender, duration of cataract and different age groups (p > 0.05).

Conclusion:  Frequency of Dry eyes after cataract surgery was 29.2% (n = 35). There was no effect of gender, duration of cataract and age of the patient on the post-operative TBUT after phacoemulsification.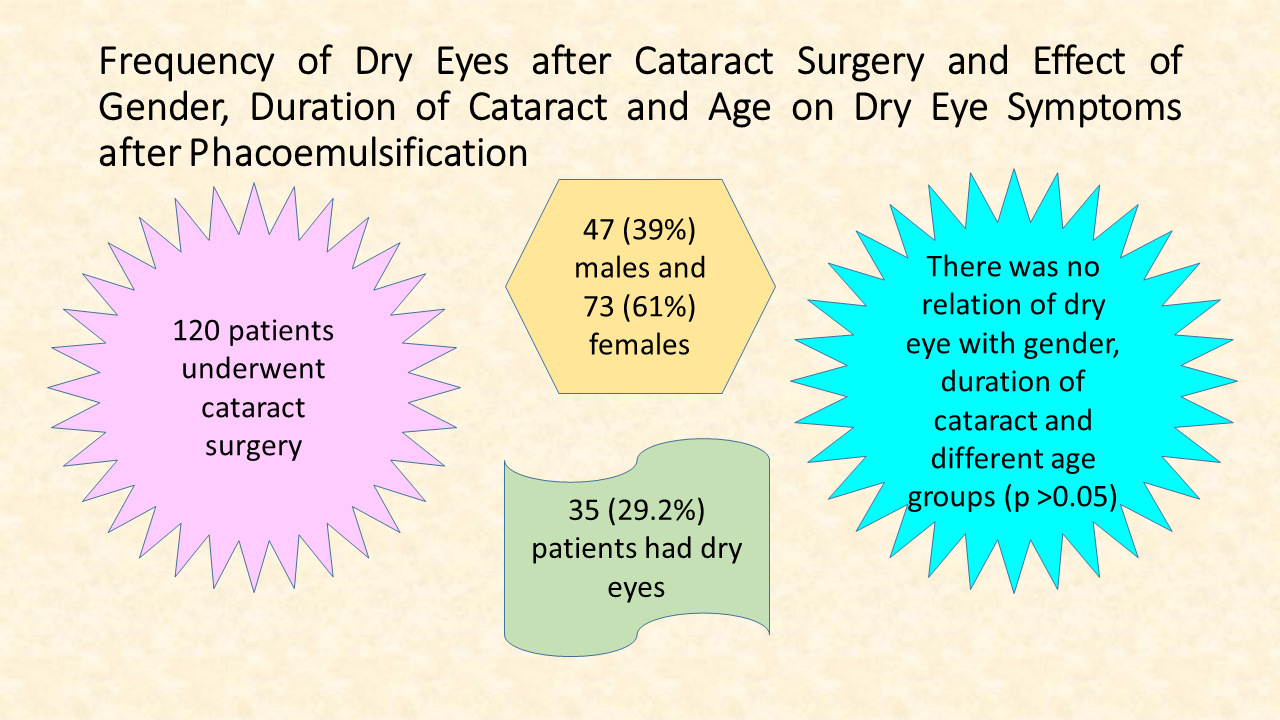 Downloads
How to Cite
1.
Rahim U, Mazhar SA, Ali NM, Iqbal N, Tariq M. Frequency of Dry Eyes after Cataract Surgery and Effect of Gender, Duration of Cataract and Age on Dry Eye Symptoms after Phacoemulsification: Doi: 10.36351/pjo.v38i4.1378 . pak J Ophthalmol [Internet]. 2022 Sep. 30 [cited 2023 Sep. 29];38(4). Available from: https://www.pjo.org.pk/index.php/pjo/article/view/1378
Section
Original Articles
License
Copyright (c) 2022 Syed Abdullah Mazhar
This work is licensed under a Creative Commons Attribution-NonCommercial 4.0 International License.